Behind the scenes- Meet Pascalle Stoit from our global poultry R&D team
"With every trial, we take the next step to better match our feeds to the needs of the broiler." Discovering new insights and having answers and solutions for questions from the market is a great motivation for her to set-up and conduct many experiments.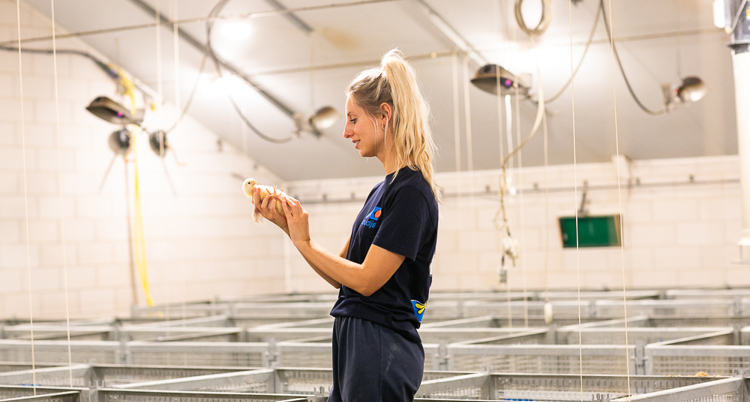 We are talking with Pascalle in one of our broiler research farms. She is inspecting the health of the chicks during a trial where the bird's requirements for several amino acids are being tested for incorporation in starter feeds. The interest in discovering new insights has always been a drive for Pascalle in her career path. She was born in Veghel 29 years ago and her favorite subject at school was biology. Therefore, the step to go and study Applied Biology at the HAS (Hogere Agrarische School) in Den Bosch was easily made. During her studies, she conducted research on different animal species like swine and poultry and developed her capabilities to be able to start as junior researcher. She enjoys the work and the open and supportive atmosphere of the global R&D poultry team so much that she has become an experienced research specialist focusing on broilers.
Improving feed solutions for broilers
Broilers are wonderful to work with, you see the results of what you feed them relatively fast. Every 5 to 6 weeks you can start a new trial and learn more. The freedom she has to develop her vision, design the experiments, conduct the trial and interpret the results makes every day different. Translating a question or an issue into the right set-up and experimental design, which help us with pointers to improve our feed solutions is our specialty. In this particular R&D facility, we can test up to a maximum of 18 different parameters per cycle.
Latest developments
Within the global R&D poultry team, we make sure to be on top of the latest developments for broilers, layers, parent stock, and other poultry like turkeys and ducks. Each team member has his or her own specialty, which makes the team a global center of expertise for all R&D related topics. Also, the interaction with the Koudijs product managers and specialists, a broad set of colleagues in nutrition, formulation, sales, and marketing give more than enough inspiration to take all kind of research parameters into account. For example, in Europe, we see a lot of questions about sustainability in relation to the use of different ingredients, the development of new feeding concepts for slow growing breeds, and how the feed can support the outcomes of a full chain approach.
Share and implement knowledge in your company
If you have specific issues to solve for our Koudijs Poultry specialists, the changes are high we ask colleagues from Global Poultry R&D like Pascalle for support. By combining literature and our own specifically designed research we can find the answers and solutions to bring your business forward.