Meet Rob van Schie - Sales Business to Business team leader Koudijs
Rob van Schie, our sales team leader typically can be found where he can make a difference. In order to figure out what can bring you further and make your approach more successful, he is rarely found behind a desk. You can find him most of the time at a farm, with his team or in a feed production location. From his extensive experience he has learned to look at all angles in the operational management of feed milling, animal farming and general management to find the areas where you can benefit from the broad experience and capabilities of Koudijs.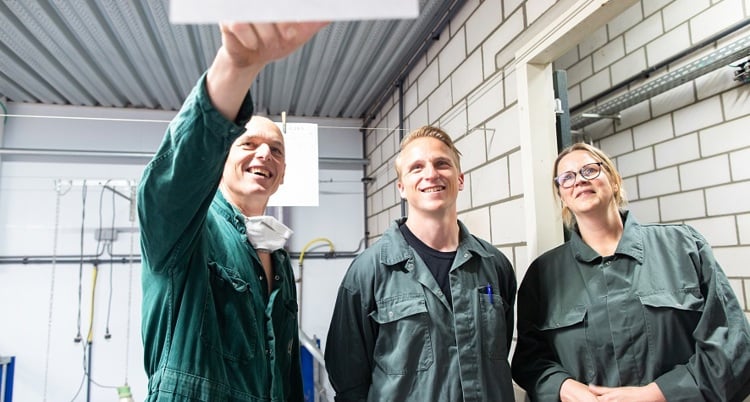 He inspires his team and you as a customer to define which activities are best done in your own operations and to recognize where specialist support can bring you forward. Finding the right match, listen to and learn from each other resulting in long term business relationships with open communication and mutual respect is what engages Rob to (not) come to the office every day.
Complete piglet feed approach
Rob joined Koudijs nearly 10 years ago after more than 25 years of working in commercial sales, technical sales, training and coaching of specialists in various companies. He was convinced the combination of the right piglet feed with a matching feed approach would support farmers to successfully reduce anti-biotic consumption without productivity losses. This challenge was and remains a key market requirement in many regions. At Koudijs he was given the opportunity to define and develop a complete piglet feed approach. From his knowledge about the nutritional needs of piglets and how piglets are fed at the farm, Rob has been a driving force in the design of a new process and the necessary factory investments as can be seen in Andel to make sure the right product properties for these piglets could be realized. These products come complemented with the right on farm advice and technical support.
The difference this approach makes is recognized by our customers and competition. "I want to be so good that competition wants to buy from me" was a leading motivation for Rob and remains at the basis of the way the Koudijs Business to Business approach was founded. He now leads a team of 5 account managers and brings from the whole team of De Heus the relevant technical specialists, formulation experts, processing managers and other professionals to bring that specific piece of expertise to complete the approach of the customer.
"I want to be so good that competition wants to buy from me"
Growing partnerships
Finding the right balance of doing things by himself and training his team to learn can be a bit of a challenge for Rob. He likes to have his feet firmly on the ground. However, he is a firm believer that a combination of hands-on coaching and learning by doing brings the best results, which enables him to be a hands-on team leader and remain in close contact to what the market demands of us. We can only be successful if our customers are successful. No one has the complete, right answer or perfect solution to many of the markets' challenges, but we at Koudijs- as part of De Heus believe we have a lot to offer and to help our customers further- step by step. The process of discovery, bringing the right team to the table, growing into real partnerships and being part of the success of our customers is what makes the job of Rob and his team worthwhile and very enjoyable.